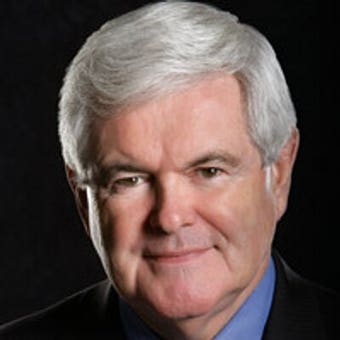 NEWT GINGRICH
American politician, author, historian, and former Speaker of the United States House of Representatives, firmly believes that God should not be driven from the public square with positive proof that the Founding Fathers wanted it that way too. He states that the last 50 years, ACLU lawyers and left-wing judges and most
recently, hate-filled groups have been outlawing God in our culture. To corroborate his premise, Gingrich has recently produced a full-length film which takes one on a walking tour through our National Capitol where evidence of God's role in America's history can be found on almost every monument and building. Some sites documented in the film are as following:
'Praise be to God' is inscribed in the capstone of the Washington Monument.
'In God We Trust' is written over the southern entrance of the U.S. Capitol.
The image of The Ten Commandments is engraved on the floor of the National Archives where the Declaration of Independence and The U.S. Constitution are displayed.
Newt Gingrich believes we can sit back and do nothing or we can get his film, Rediscovering God in America, into the hands of citizens across the country and prove once for all that our Founding Fathers intended for God to be the backbone of this nation. Remember, to do nothing is to give silent consent.
Rediscovering God in America  as book or DVD is available on Amazon.com as well as other booksellers.