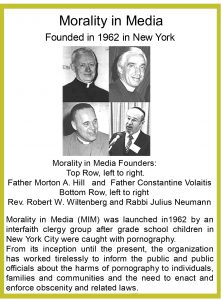 Morality in Media, Inc. (MIM), now known as the National Center on Sexual Exploitation,[1] is an American, non-profit organization that was established in New York City in 1962. MIM seeks to raise awareness about what they regard as the harms of pornography and other forms of obscenity to individuals, families and society. MIM also works through constitutional means to curb traffic in material they consider obscene and uphold what they view as Judeo-Christian standards of decency in media. The president is Patrick A. Trueman,[2] who is a registered federal lobbyist.[3][4]
History
MIM was launched by an interfaith group of clergy in the Upper East Side of Manhattan (NYC) in 1962 after grade school children were caught with hardcore pornography. MIM was first formed by Father Morton A. Hill, Rabbi Julius Neumann, and Rev. Robert Wiltenburg (a Lutheran pastor) as a neighborhood organization under the name Operation Yorkville.[5] They were soon joined by Rev. Constantine Volaitis of the Greek Orthodox Church.
In 1968, Hill (president of MIM until his death in 1985) was appointed to serve on the President's Commission on Obscenity and Pornography by President Lyndon B. Johnson. A report was submitted in 1970 that said all "adult" obscenity laws should be repealed. Hill co-authored a minority report describing the Commission's report as a "Magna Carta for the pornographers" [6] with another Commission member, Dr. Winfrey Link. The U.S. Supreme Court recognized the Hill-Link minority report in upholding obscenity laws in 1973.
Morality in Media of Massachusetts, Inc. became a reality on April 22, 1971 when its co-founders the Rev. Paul J. Murphy and George T. Ryan filed its Articles of Organization at the Secretary of the Commonwealth's Office. The Rev. Morton Hill contacted Mr. Ryan, a devoted Christian business man for help to establish an affiliate here who in turn reached out to the Rev. Paul J. Murphy and so it began. The following were the original Officers and Directors who wished to initiate, promote, encourage and coordinate activity designed to safeguard and advance public morality ,impeding the sale or other dissemination of salacious or other obscene material, especially for the young and thereby combating family and community deterioration:
President- Rev. Paul J. Murphy, S.J.
Treasurer-George T. Ryan
Clerk, Secretary-Rev. Msgr.Kickham
Directors: Rev. Morton Hill
Henry Sheridan & Warren Murray
Joseph Chevarley
Rev. Msgr. Joseph Donelan
Rev. Myron Powell Boston
On February 23, 2012 the MIM website went offline due to an attack by the Anonymous group.[7] Shortly after that, MIM president and CEO Patrick Trueman released a statement stating that MIM was in contact with the FBI and claiming that the site had been under "a heavy sustained attack by pornography advocates".[7]
The group changed its name to the National Center on Sexual Exploitation in 2015.[1]
Activities
MIM's current campaigns include:
The Coalition for the War on Illegal Pornography—a bipartisan coalition of more than 115 national, state and local groups.
Pornography Harms
The Safe Library Project
Be Aware: PORN HARMS National Awareness Campaign
White Ribbon Against Pornography week.[10]
Funding
Annual U.S. Department of Justice (DOJ) grants of $150,000 in the 2005 and 2006 federal budgets funded MIM's review of citizen-generated obscenity complaints submitted to MIM's ObscenityCrimes.org website. 67,000 of the complaints deemed legitimate under the program had resulted in no obscenity prosecutions as of August 2007. The grants were created by Congressional earmarks by U.S. Representative Frank Wolf of Virginia,[11] and awarded through the DOJ's Bureau of Justice Assistance, Office of Justice Programs.[12]
See also
National Feminist Anti-Pornography Movement
References
Archives of recognition Morality in Media has received over time. 
Attorney General Reilly Press Release to Announcing Statewide Campaign to Educate Children on Internet Safety